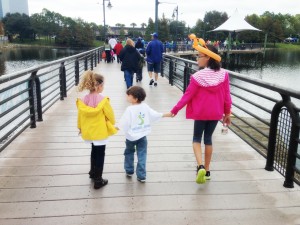 An Autism Spectrum Disorder diagnosis can be overwhelming for a family. In 2008, Latino Leadership's President/CEO, Marytza Sanz learned first-hand what effect an ASD could have on a family unit; her grandson was diagnosed with Autism. Although this diagnosis is never easy, her family rallied and began to learn what services and programs are available for families with autism. As with other families with an ASD diagnosis, the stark reality hit home; although cases of Autism are growing exponentially – Autism is the fastest-growing serious developmental disability in the U.S. – the services available are lagging. Many families are met with long waiting lists and programs over capacity.
After more than 4 years of navigating the world of service providers, Marytza Sanz presented to Latino Leadership's Board of Directors the opportunity to create a bridge to close a gap in service for all families, with a special emphasis on Spanish speakers. As a result, the Santiago & Friends | Family Center for Autism was created.
Santiago & Friends | Family Center for Autism addresses the welfare of Central Florida children and education advancement priorities for Latino Leadership. Through Santiago & Friends, Latino Leadership works to address a gap in services for families touched by autism in a linguistically- and culturally-sensitive manner. Focusing primarily on ABA Therapies, Santiago & Friends | Family Center for Autism empowers parents to be the voice for their child and be a major component of their therapy program.