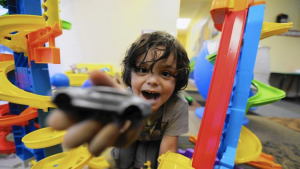 At first, when Marytza Sanz found out her 18-month-old grandson, Santiago, was diagnosed with autism spectrum disorder, she went into the bathroom and cried.
"Then, I wiped my tears and we all sat down and said, 'OK, from now on our life is different. Everything is going to be different. We have to all work together,'" Sanz said.
A lot has changed since that day five years ago for this Puerto Rican grandmother.
She started accompanying her daughter to therapy sessions and every so often, she would come across a Spanish-speaking family who would ask her for help in translating care instructions…
Click below to watch the video!
http://www.orlandosentinel.com/health/vital-signs/os-autism-center-supports-spanish-speaking-families-20160429-premiumvideo.html